Gamification has proven to be beneficial in any aspect of life. Every chore seems to be less daunting when you turn it into a little game or challenge. Moreover, this process doesn't only make it easier to work or learn – it also makes you want to go back for more. If it works in the classroom or workplace, why wouldn't it work in business? Here are 5 gamification examples that don't require you to give away thousands of free products or hire expensive app development teams.
More than 80% of retailers will use gamification marketing within the next three years, Boston Retail Partners survey found. Academic studies echoed this finding, showing that 9 in 10 marketers have a positive attitude towards gamification and consider it effective in increasing brand awareness, customer retention, and sales conversion.
But if you are afraid that gamification is a possibility exclusively for big companies, it's time to change your mind with several great gamification examples. The best thing is that tools that will help you to gamify your business are readily available.
Gamification – ground rules
In order to reach your goal you need to follow a few rules, no matter which game you incorporate into your marketing strategy.
Recognize your goals
Don't gamify for the sake of gamifying, or just because everyone is doing it. A game is only the means – the end is growing traffic, building awareness, lead nurturing, sales conversion. Depending on your goal, you will choose the right game.
Think about your target audience
Think about your user's needs and motivations. What are their interests? Why are they buying your product? What are their concerns about the purchasing process? All of these questions and answers to them will help you customize your game.
Don't frustrate your audience
Make sure that your game is neither too easy nor too difficult. If people realize that hours of gaming aren't enough to collect enough points for a promised reward, not only will they give up – they will also feel angry and cheated.
A good game will challenge people to bring out their curiosity and competitiveness. When you meet these conditions, your game has great chances of going viral. People love sharing their success, in turn challenging more people to discover and join the game.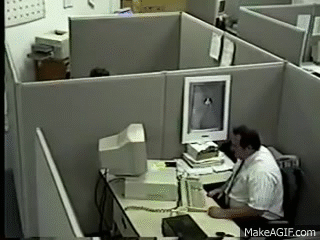 The outcome that won't help your marketing efforts.
Figure out the metrics
Depending on your goal, you will define the metrics that will measure the success of gamification. While your game may go viral and bring you a lot of traffic – if the goal was sales conversion, your gamification failed and needs adjusting.
Contextualize the game
One of the great ways to make sure your game is going to be noticed is to align it with current events – be it holidays, latest news or social phenomenon.
Gamification examples
1. Challenges
Perfect for: building brand awareness, branding, capturing attention, driving sales
One of the easiest and cheapest gamification examples is challenging your audience. From the global phenomenon such as ALS challenge to Oreo horror stories, many brands launched insanely successful campaigns by simply challenging people to some form of a friendly game.
If you are interested in this type of gamification examples, keep in mind several things. Whatever the idea is, it needs to be connected to your product or service in a way. If you can align this with current local or global events, even better.
Example: ALS challenge
Although the "cold water challenge" circulated around several years prior to its viral fame, the ALS Association turned it into a global phenomenon. It started in 2014 when the ALS Association decided to spread the awareness of the motor neuron disease. Their plan was to challenge people to dump a bucket of ice over their head or have another person do it to them. The person would go on to nominate someone else for the game. Once nominated, the only way they could opt out of by making a donation to the ALS Association.
The challenge was essentially a game – asking from people to film themselves in a bit uncomfortable situation or donate to get out of the "game circle." As more and more prominent people started joining in, they inspired others to jump onboard. According to some estimates, 17 million people participated. Not everyone donated money – but think again, how many people even knew about ALS before this game?
Ultimately, the campaign raised $115 million in donations. This money funded research that eventually led to a breakthrough in determining the cause to ALS.
Photo contests, video challenges are a great way to build your social media following. Sometimes, people will do it for the reward, and other times they will do it for the game, recognition, competition or sense of belonging. For example, think about the way your product can solve people's problems. Ask them to film or photograph themselves in funny situations that could be solved with your product – or to think about the funny alternatives to it.
The app you need: Any social platform
None! All you need is a social network account, a good idea, and you can start.
Bonus example: Wish
Wish is a discount shopping app that is based on one simple premise – impulsive shopping. This purchase is driven by a game, which doesn't allow shoppers to waste too much time deciding whether they should buy the chosen product.
The app allows users to spin a wheel that determines how much time they have to shop at a discount rate. The customer is encouraged to add as many products as possible – in my case, I was given to choose between 75 products in 10 minutes.
Want proof that gamification incorporated into the very core of your shop can be a goldmine? Here it is. The app was the most downloaded shopping app in the USA in 2017, and its value currently stands at $10billion.
Although you cannot use this app to drive sales on your site, I wanted to show you this as one of the great gamification examples you can try on your website with a little help from your developers.
2. Quizzes
Did you know that more than 82% of users will take part in a quiz if they see it on their social newsfeed? It's not that hard to understand why. Quizzes are fun, and at the same time, they carry a promise of telling you something you wanted to know about yourself.
We even conducted our own study of the psychology behind online quizzes, echoing other findings that introspection, self-confirmation, recognition, and personal engagement are just some of the innate needs people are trying to satisfy by taking quizzes. Thanks to their multifaceted nature, quizzes can cover a number of your goals.
You can use quizzes to learn something about your audience or reward them for showing knowledge about your brand. You can also nudge them towards purchasing your product, by creating a "we'll tell you which product is for you" quiz. For example, here's a guide on making quizzes that can help you sell real estate, and here's a guide on creating viral quizzes.
Perfect for: generating leads, driving engagement, sales conversion, market research
Example: Fit Father Project
Major content platforms like BuzzFeed became famous for their sometimes absurd (yet fun!) quizzes, which have been insanely successful in boosting their engagement and presence on social networks. But you don't have to be as big as Buzzfeed to get your quiz to capture people's attention. The founder of Fit Father Project Anthony Balduzzi's used a quiz to capture subscriptions to his sales letter. The ad generated 15,000 leads.
The app you need: LeadQuizzes
LeadQuizzes enables you to create an unlimited number of quizzes in a simple drag&drop menu with more than 60 pre-designed templates. Furthermore, the software integrates with over 1000 platforms, so you don't have to worry whether your quiz will work with your marketing software or e-commerce platform. You can set up split tests to constantly improve your quiz results, review in-depth analytics and segment your audience. Click here to start a free 14-day trial and click here to learn how to create a perfect quiz.
3. Loyalty points
Rewarding loyalty can never be a bad thing. Making your customer feel special or even privileged because they keep coming back shows you care. And after all, everyone likes a discount or a gift time after time.
Perfect for: driving sales, customer retention
Example: Starbucks
Starbucks is well known for its loyalty program, which rewards customers everytime they purchase a coffee. Loyalty stars can be redeemed for free coffee, birthday gifts, and personalized offers. If you are wondering if occasional freebies are going to harm your revenue, keep in mind that Starbucks increased its profits by 26% thanks to this trick.
The app you need: Loyalty Rewards and Referrals
This Shopify app is free to try – after the trial, you only pay for the level of service you need. The app offers welcome email templates you can customize and automatically send to your new customers. Loyalty Rewards and Referrals will enable you to gamify your online store so customers can collect points when they sign up, answer the surveys, purchase your product or refer their friends to your business.
With this app, you can automatically create discount codes for percentages or fixed amounts, limit codes to minimum order amounts and set up rewards for free shipping. It integrates with Mailchimp, Stripe, and Paywhirl. Paid plans start at $9/month. Find it here.
4. Treasure Hunt
Perfect for: driving engagement, driving sales
Example: Bonobos
Men's luxury apparel company Bonobos gamified its social media campaign back in 2011, placing hidden images of models wearing Bonobos clothes were placed on design network NotCot and NotCouture's site. Visitors were encouraged to search the site to find the photos, with the first 50 people that found the images each day receiving a $25 Bonobos credit plus free shipping. Customers who found a special photo of a guy in paisley pants received a $100 credit.
The goal was to attract male shoppers and drive them to search the website, rather than click on the first thing that may seem appealing. The campaign was successful, and its effectiveness can be emulated because looking for hidden clues boosts our curiosity, competitiveness, and sense of accomplishment, but it also adds a bit of "I got lucky" feeling to the mix.
The app you need: Treasure Hunt
This Shopify app enables you to create and customize games, funnel your visitors to the products you want to showcase. After a 30-day free trial, paid plans start at $4.99/month. Find it here. You can check out a similar app here.
5. Becoming part of the game
Perfect for: building brand awareness, driving sales
Example: BestBuy and CityVille
CityVille is one of those famous games that used to be all over your Facebook notifications. You probably remember your colleague's incessant begging that you pet his cow or give him coins so he could advance in the game. Each to their own, but at some point in history, games were all the rage on Facebook, and some companies cashed in on their presence. In 2011, electronics retailer Best Buy became the first virtual branded retail store appearing in CityVille.
But it wasn't just there. Players could place a Best Buy store in their own city, collect bonuses, badges and rewards, driving the brand's awareness and turning it into a logical go-to place for electronic equipment.
The app you need: It is probably around the corner.
Once again, you don't have to be an established retail store or multimillion dollar earning gaming app. Partnering with someone who is also striving to succeed could be exactly what you need, so search for the latest and trending games in App Store or Google Play. For example, a fashion game that enables users to play dress up or do their make-up could be the perfect platform for placing your product and linking users to your online store.
Conclusion
As you can see from these gamification examples, the things that are proven to work well are fairly simple and available even to the budget-restricted business beginners.
I've already mentioned that quizzes are probably the most multi-faceted tool and of the most successful gamification examples for various marketing goals. If you want to learn more about using this irresistible game to generate leads and drive sales, you can easily learn how to make a Buzzfeed quiz – and of course, share your gamification experiences in the comments!