In recent years we've witnessed a massive expansion in all kinds of offline and online training.
As education has become one of our top priorities, students, job seekers and employees looking to grow their knowledge and skills are constantly on the lookout for quality training, courses, and certification programs.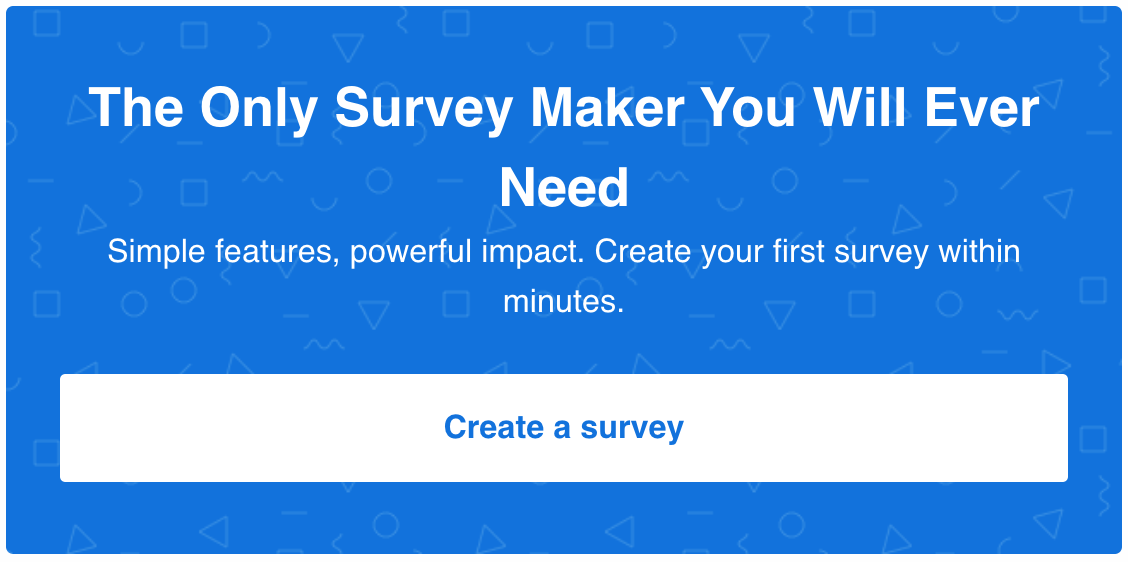 If you're in the training business, you know that the competition out there is fierce. In order for trainees to choose your training, you need to find a way to stand out from the crowd and distinguish yourself from other training providers.
Especially if we know that the e-learning industry is projected to grow to $325 billion by 2025.
This is particularly true due to the fact that with training (as opposed to courses), people expect instant gratification. They need to see improvements or be able to apply new skills immediately after the training. Or else they might leave your program immediately after the first session.
That's why you need to find out what they really think about your training and use that knowledge to improve it and make sure it meets their expectations. In other words, you need to run a training survey. To do so, you need to come up with the right training survey questions. And you need a survey maker that lets you turn those into a survey people actually want to take.
Why you need to run a training survey
To improve any business process, product, service, course or training, you need to know what you're doing well and which areas might need some improvement. Obtaining feedback is vital for any company or organization to grow.
The best way to find out more about the quality and effectiveness of your current training programs is by running a survey and asking all the right training questions. Here are some of the most common reasons why you might decide to run a training survey:
Learn what kind of training you should offer
Determine the effectiveness of currently offered training
Find out more about the trainee satisfaction
Evaluate the instructor effectiveness
Do pre-training and post-training assessment of skills
When to run a training feedback survey
Experience has shown that the best time to ask your training survey questions is immediately after the training session or course has been completed. Anyway, you shouldn't wait for more than 24 hours to run a survey because you'd like to collect feedback while it's still fresh.
In addition to the post-training survey, you might decide to ask a few questions before you create/organize the training as well.
Training survey question examples for your survey
There are two main types of training survey questions – pre-training and post-training.
Pre-training survey questions to ask
Pre-training surveys can help you identify the demand and get a clearer picture of what people expect from training like yours. In combination with eavesdropping to the latest industry trends online, it's your best shot at offering a product or service people really need.
Here are two sample training survey questions you could ask:
1. What are you looking to get from this training?
Ok, if you're one of the creators of the training, you certainly have an idea of what it's main aim should be. But could you be wrong? Maybe your trainees don't have the same expectations.
That's why you should ask about their expectations before they start the training. This way, you can compare this answer to what they say after the training and realize which areas may need improvement.
2. What level of expertise do you expect from this training?
Before anyone enrolls in your course or signs up for your training, it's important to make sure that the materials you offer are relevant to them and their current level of expertise.
And this is a two-way street. Just like a beginner would be lost if you started throwing the most technical terms at them after the introductory "hello", a more advanced user would find a beginner level training dull and a waste of time and money.
That's why you need to make sure you're offering the right training level to your users. This can be simply done by asking the training survey question above and offering simple answer options as shown in the screenshot below:
Post-training survey questions to ask
After every training session, it might be a good idea to obtain feedback from the trainees. Here are some of the training survey questions you should consider asking (of course, don't use all of them in a single survey):
1. How many days in advance did you find out about this training?
2. Were the training objectives clearly defined?
3. Were the topics covered relevant to you?
4. How well was the training structured?
5. Was the content well organized and easy to follow?
6. Was the content structure clear and logical?
7. How was the quality of the teaching?
8. What do you think of the trainer's proficiency?
9. Did the trainer provide relevant examples during the training?
10. Was the trainer able to answer all your questions and concerns?
11. How would you describe the training pace?
12. Did you have enough time allocated to complete the training?
13. Was the training interactive enough?
14. Were participation and interaction encouraged?
15. Were the materials distributed helpful?
16. Did the multimedia used within the training make it easier to comprehend the topic?
17. Do you think the course was easy to progress through?
18. Did the training meet your expectations?
19. After this training, do you feel comfortable handling the assigned tasks?
20. What did you like the most about the training?
21. What would you change about the training?
22. How could this training be improved?
23. Was the course different to what you initially expected? If so, why?
24. How would you rate the training overall?
25. Would you recommend this training to a friend or colleague?
How to create a good training feedback survey
Now that you know which training survey questions you can ask, it's time to create your own survey. Here are some tips to help you along the way:
Identify the information you want to obtain
What is the main objective of your survey? What are you looking to learn? Which areas of your training do you want to get feedback on (instruction, materials, structure, etc.)?
Once you know the answers to the questions above, creating a good survey will be a breeze.
Keep the questions relevant and concise – ask only what's necessary
With any kind of a survey, you don't want to overwhelm your respondents. Asking too many irrelevant questions will make people give up your survey halfway through.
That's why you need to make sure all your training survey questions are super relevant and concise. Also, try to keep the number of survey questions reasonably low (don't use all 27 questions given here).
Use the right survey creator
In addition to survey questions and tips above, you need only one more ingredient to create a perfect training feedback survey – a powerful and easy-to-use survey creator.
LeadQuizzes allows you to easily create beautiful surveys that actually get answered. Grab your free 14-day trial, select a ready-made survey template and customize it to fit your specific needs.