Whether you're doing scientific research or trying to create a viable digital marketing strategy, one thing is vital – collecting and analyzing adequate quantities of relevant data.
The fastest, easiest and most effective way to do so is by doing an online survey.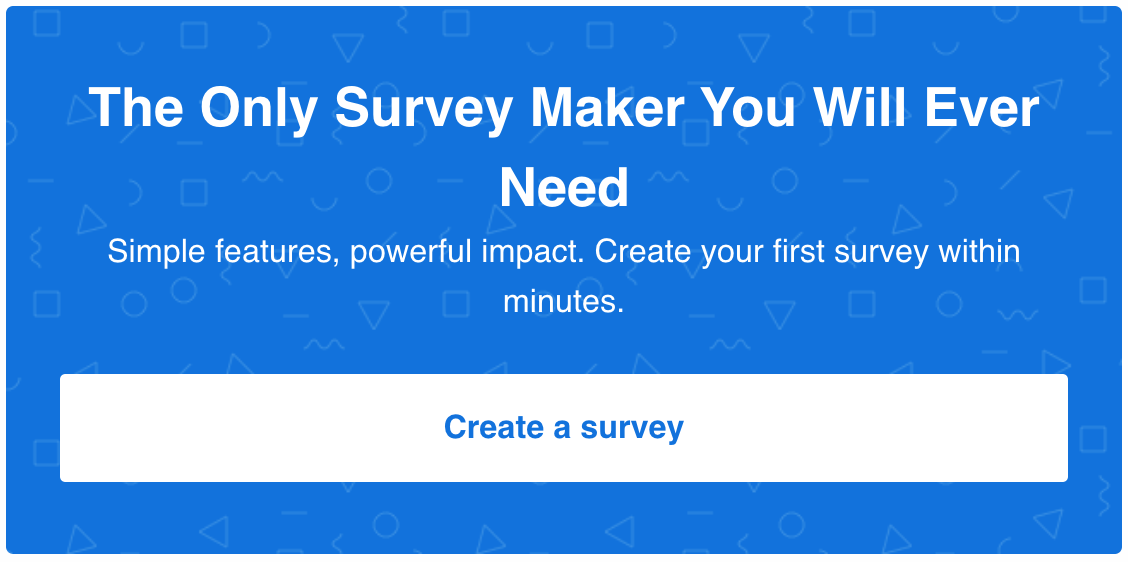 Surveys can help you get to know your target audience – i.e. to identify and better understand your prospects and their specific needs and problems. All with the purpose of learning more about what kind of buying process works best with certain customers.
Of course, in order to start using surveys to gather data, you need to be using the right survey maker. To help get the most out of your online surveys, we have prepared an overview of 7 things the best survey tools should have.
Let's dig in.
7 Things the Best Survey Tools Have in Common
1. They offer a wide selection of ready-made survey templates
Even though most of the best survey makers are very intuitive and do their best to make survey creation as easy as possible, still, creating a survey from scratch may seem too overwhelming and time-consuming.
That's why the best survey tools offer a wide range of pre-made survey templates to use right away. You can use them as they are or easily make small adjustments to make sure they fit your specific needs.
Need to conduct an NPS survey to find out how satisfied your customers are? Or maybe you would like to learn more about your target audience by doing a demographic survey?
Log in to your LeadQuizzes account (or sign up for free if you haven't got one yet) and feel free to choose from a wide range of survey templates allowing you to do research related to market research, brand awareness, job satisfaction, website feedback, and much more.
All of our ready-made survey templates are available for FREE to all the active LeadQuizzes users (even those on a free trial).
2. They make creating a survey as smooth as possible
What if you're looking to create a survey, but have no significant coding or design knowledge?
It really helps a lot if your survey software is user-friendly and holds your hand throughout the entire process of survey creation. The LeadQuizzes content builder leads you through the entire process, step-by-step, so as to make sure you don't miss any important stages.
3. They allow different types of survey questions and answers
Depending on the type of survey you're looking to create, as well as its goals and target audience, you might want to include different types of survey questions and answers.
The best survey tools let you choose among many different question and answer types, including open and closed-ended questions, multiple-choice and single-answer questions, and allow for text, image, and video answer options.
Looking for Likert scale type of survey questions? Here's how to create and use Likert scale surveys.
To help you get your questions right, check out the 8 types of survey questions that can get you all the data you need. Want to narrow your focus down to demographics only? No worries, we have handpicked 8 demographic questions every quality survey should contain.
4. They let you customize your survey design
The days of surveys as dull pieces of white printed paper with nothing more than text questions and answer options are long gone.
Coming up with a quality questionnaire is not enough if you're looking to get a decent response rate for your surveys. Your surveys need to stand out from the crowd. One of the easiest ways to do so is by making sure you use a custom, modern, and appealing design.
Is customization really that important? Well, 70% of consumers claim that they trust a brand more if it creates custom content.
The best survey tools (including LeadQuizzes) let you create a customized start page for your survey, add your branding and logo (or keep the LeadQuizzes' one), customize the look and feel of questions and answers, add background images, set fonts, colors, borders, and opacity.
5. They let you use skip logic (logic branching)
The best survey apps let you show specific questions to a certain set of takers, based on their answers to previous questions. This feature is known as logic branching or skip logic.
The LeadQuizzes skip logic feature lets you show the respondents only the most relevant steps based on their response. More importantly, it lets you skip questions that are not relevant to avoid overwhelming your takers and keep your surveys short and sweet.
6. They enable you to create other types of interactive content
Survey tools should only be used for creating surveys, right? Wrong.
In addition to surveys, the best survey tools let you create other types of interactive content such as online quizzes and forms (contact, registration, sign up, lead generation forms, etc.).
Why is this important? Well, over 70% of marketers agree that interactive content is extremely effective when it comes to turning your website visitors into customers. Online quizzes, for example, can help increase your lead capture by up to 500%.
The LeadQuizzes quiz and survey maker lets you create all kinds of surveys, quizzes, and forms to help you get to know your target audience and generate more leads and sales.
7. They let you easily share and distribute surveys across various channels
The main goal is not to create beautiful well-designed surveys… no one's ever going to see or take, right? It's vital that your surveys find their way to respondents.
The best survey tools enable you to share and distribute surveys in several different ways.
You can share them on social media. Not only that, you can enable the takers to share the results as well.
You can use them in paid ads. Make sure your surveys reach your target audience.
You can distribute them via email. Surveys can easily find their way into your email marketing campaigns.
You can embed them on your website, blog, or landing page. Why don't you take advantage of your existing website traffic? If you want to take it to the next level, LeadQuizzes surveys can be used as website popup too.
Finding the Best Survey Tools for Your Needs
Looking back at all of the features and characteristics listed above, you might be wondering whether it's possible to find one tool that enables you to do everything or if you need to use several different survey tools.
Use LeadQuizzes and every step of survey creation will seem strategic and intuitive. Our rich features, integrations, and templates will allow you to easily customize your quiz and never worry about collecting and analyzing the results because our reporting feature does it for you.
LeadQuizzes vs. other survey creators? Well, the decision is all yours.
Above, you've been given a list of 7 things all the best survey tools need to contain – the best you can do now is to sign up for a FREE 14-day trial and decide for yourself if LeadQuizzes is worth your time and money.