Looking for SurveyMonkey alternatives?
With dozens of survey tools out there, finding the right one for your needs can be quite a challenge nowadays.
Sure, SurveyMonkey is one of the pioneers in the field. One might even say that they have revolutionized the old paper survey and questionnaires industry.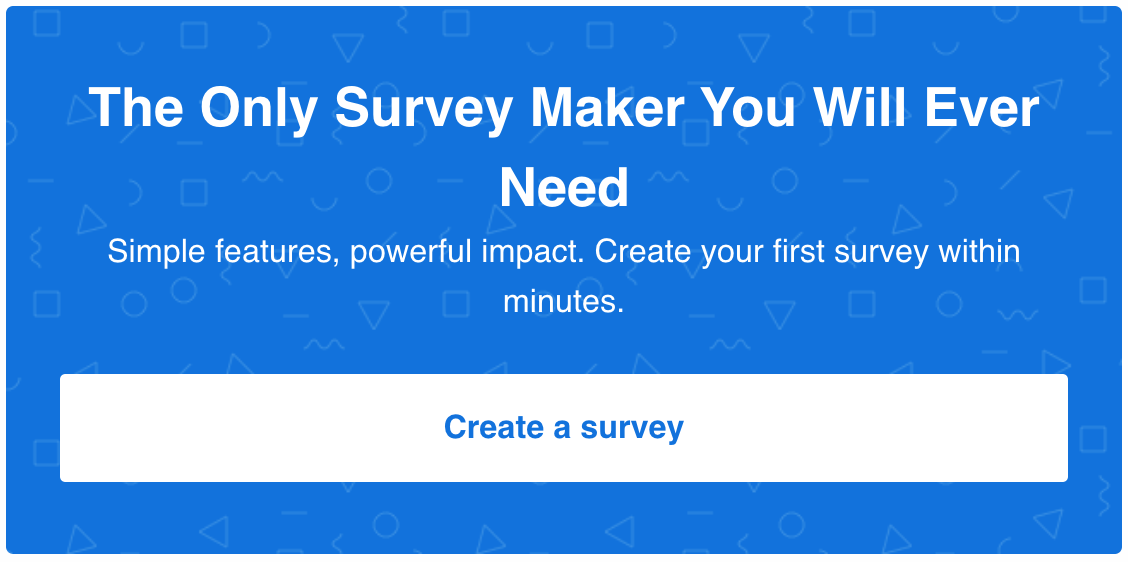 Still, at one point this was also true of Nokia, Kodak, Blockbuster, and other once-leading companies in their respective fields. And yet, most of us own an iPhone and watch movies on Netflix nowadays.
Of course, it's indisputable that SurveyMonkey is still one of the leaders in the online survey industry. But my point is that so many new tools and apps get launched every single day that, even though it's often easier to stick to the old habits, it might be well-worth exploring some of the already proven SurveyMonkey competitors.
That's why I'm going to introduce you to some of the top SurveyMonkey alternatives that might better account for your specific needs, question types, business goals, and budgets. Whether you're looking to run a simple survey or want to improve your response rate and collect more survey responses, there is the right survey software for you.
But before I introduce you to the actual list of survey makers, there's one important question we have to answer first.
Why seek a SurveyMonkey alternative?
*Includes SurveyMonkey reviews by actual users, taken from Capterra.com
No one can dispute that SurveyMonkey is a great tool. Still, as with most things in life, one size does not fit all. Many users simply haven't "clicked" with what this tool has to offer and have found themselves trying out different tools, looking for SurveyMonkey alternatives that better serve their needs.
That's why we have researched and tested a wide range of tools similar to SurveyMonkey and come up with a list of 3 alternative survey makers beating it in at least some way. One of the main questions we tried to answer before actually doing any research was why anyone would seek a SurveyMonkey alternative in the first place.
To find out that, we turned to people who know this tool the best – the actual SurveyMonkey users. In the screenshots below, you'll find a selection of recent SurveyMonkey reviews on Capterra that particularly focus on cons.
(Disclaimer: Of course that there are many pros too, but in order to find the best SurveyMonkey alternative, we need to identify their users' pain points and see if any other survey tool can help address those in a more effective way.)
Here's what the actual, verified SurveyMonkey users say about the tool:
To sum up, these are just some of the things users usually complain about:
Limited customization and design options and outdated look of surveys
Removing the SurveyMonkey logo and branding is not possible even with some of the most expensive plans
Costly pricing plans and limited free plan
But what about the SurveyMonkey competitors, where do they stand when it comes to similar issues?
We've already explored some of the best Typeform alternatives and now we've made a selection of tools you should consider if for any of the reasons mentioned you don't find SurveyMonkey up to your liking.
Let's start.
Top 3 SurveyMonkey alternatives
1. LeadQuizzes
LeadQuizzes originally started as a drag-and-drop content builder that lets you easily create lead generation quizzes. As the app grew, however, it expanded in such ways to enable the creation and use of almost any type of online data collection method.
So, instead of changing the name to LeadQuizzesSurveys&Forms, they kept the name but included more advanced features that allow you to create beautifully designed forms and surveys, enabling you to find out more about your audience in an engaging and non-boring way.
LeadQuizzes surveys have found their application among marketers, entrepreneurs, small businesses, and independent researchers. People have been using the app to create interactive surveys for market research, HR, demographic research, and all kinds of data collection.
In other words, if you're not a huge research center or a Fortune 500 company that probably has an entire department dedicated to survey creation and analysis, LeadQuizzes might just be the right tool for you.
But how does LeadQuizzes compare to SurveyMonkey?
Let's briefly go through some of the concerns a typical SurveyMonkey user has been having.
Price
In terms of pricing, both tools have several different plans that are difficult to compare head-to-head due to the different features included in each.
Still, if we take a look at the most comparable plans – SurveyMonkey's Advantage Annual (starting at $32/month, billed annually) and LeadQuizzes' Standard Plan (starting at $37/month, billed annually) – you could see that the two tools are priced similarly.
In addition, SurveyMonkey limits you to one monthly plan only (for all the other plans you have to pay for an entire year), while LeadQuizzes lets you use all the plans on either monthly or annual basis (the annual plans being more affordable, of course).
Even though SurveyMonkey offers a free Basic Plan, it's very limited as it allows you only 10 questions per survey and lets you view only 40 responses per survey. It's okay for getting familiar with the tool but there's not much you can actually do with such limitations.
As for LeadQuizzes, it actually doesn't have a free plan. But unlike SurveyMonkey, it offers a free 14-day trial with NO LIMITS. This means that, for that period of time, you get to use the full capabilities of the tool.
After that, if you realize it's a good solution for your needs, you can upgrade to one of the paid plans. If you don't happen to like it, you can cancel your free trial at any time without being charged. The important thing is that they let you try out even the most advanced features of the tool for free so you can make an informed decision.
Also, if you're looking to run a single survey and are able to distribute it and gather the responses in under two weeks, LeadQuizzes is a better solution because you can use its full features during those 14 days without spending a dime.
Branding
Research has shown that consistent branding could increase your profits by up to 23%.
It shows the importance of consistent branding across all your online assets and marketing channels, such as your website, social networks, advertisements, and interactive content (including online surveys).
Speaking about survey branding, one of the most important things is to align its design and copy with the overall style of your website or other assets where you plan to use the survey. If you plan to embed it on your website, it needs to be consistent with its overall design. Or it needs to match the style of your emails and social media posts.
That being said, you'd want to keep the focus on your own brand and not the brand of the company whose survey maker you're using. In other words, you'd like to be able to remove any third-party branding from your surveys.
As you could see from the reviews above, many SurveyMonkey users complain that even some of the expensive plans do not allow you to remove the SurveyMonkey branding.
If you decide to use LeadQuizzes, however, all of the plans will let you remove their branding and easily replace it with your own image or logo. This lets you create customizable content, which is essential for consistent branding.
Design options
If you've ever taken or created a survey using SurveyMonkey, you noticed that it looks kind of old-school, doesn't it?
I mean, all the necessary elements are there, the layout is fine, but the surveys just look somewhat 2000-ish.
You might say it's just my subjective impression, but if you go back to some of the Capterra reviews I shared at the beginning, other users also describe it as "a little outdated" and state that it could "use a revamp and make the surveys more attractive".
With LeadQuizzes, on the other hand, you can easily adjust the colors, fonts, borders, opacity, add a background image, different types of forms, checklists, dropdowns, and so on.
Both tools have a highly advanced logic branching feature. With LeadQuizzes, it's available for all the plans, while you'd need to get one of the more expensive SurveyMonkey plans in order to use the advanced skip logic.
When it comes to preloaded content, SurveyMonkey might be a better choice if you're looking to buy survey data. You can use the SurveyMonkey Audience to buy responses if you don't have your own target audience or email list.
Finally, both tools have a great number of ready-made survey templates. SurveyMonkey has more, but LeadQuizzess survey templates are professionally written and beautifully designed so as to better engage your audience.
Agency features
As agencies are a common LeadQuizzes user, they are able to add multiple clients to their account and simply manage everything from a single login. This opens up a whole new array of possibilities for managing and growing your clients' business through seamless data collection.
Finally, this shouldn't really be a question of LeadQuizzes vs. SurveyMonkey.
Both have their own audience. You just have to decide which suits you better.
While LeadQuizzes has its own audience of marketers, entrepreneurs, and individual researchers looking for an intuitive solution to let them easily build engaging and beautiful surveys, SurveyMonkey has its own loyal base of customers who appreciate its traditional survey-making style.
Undoubtedly, both are amazing tools so, in the end, it all comes down to your own preferences.
(Disclaimer: I work at LeadQuizzes. But that doesn't change the fact that it's a great tool! Don't take my word, try it for FREE and see for yourself.)
2. Google Forms
Even though it has a free Basic Plan, SurveyMonkey is not really free if you're planning to do any kind of meaningful research or data collection.
So if you're looking for a free SurveyMonkey alternative, look no further than Google Forms. Let's face it, you think of it – Google most likely already has a tool for it. Survey creation being no exception.
Even though primarily a form builder, Google Forms represents an easy way to collect any amount of data from your respondents. And that's exactly what many people need. You don't need a fancy-looking survey to get the name, email, and an answer to a question or two from someone who's already expressed interest in what you have to offer.
If, on the other hand, you need to engage your audience into taking the survey, you might want to explore other tools that let you design and customize your surveys to a great extent. In this regard, both SurveyMonkey and LeadQuizzes would be a better choice.
But of course, if you're looking for a free version of a survey tool, you'll have to make some kind of a compromise when it comes to the number of features, design options, and integrations. So the main point in which it would make sense to make a Survey Monkey vs Google Forms comparison is the price.
Price
Google Forms is free for personal use and anyone can use it provided that they already have a Gmail account (which is also free, of course). If you want to use the Business variant of Google Forms, however, it's not completely free as it requires a G Suite account.
Tip: To make sure you've selected the right survey software for your research, we've also prepared an in-depth Google Forms vs. LeadQuizzes comparison.
3. AskNicely
If you're looking for a survey platform that specializes in tracking customer experience, AskNicely might be a good choice.
They advertise as an NPS (Net Promoter Score) software that helps your business automatically obtain continuous customer feedback.
Actually, it's more than just an online survey tool, it's a customer experience platform.
When it comes to pricing, their website is not very transparent about it though, it kind of encourages you to book a demo without knowing the price of the tool. To the best of our knowledge, they used to have a single Professional Plan starting at $199.
It's a bit on a pricey end but that's what the tool really is for – an all-around survey solution for professionals in the field of customer satisfaction management.
That's its main advantage over SurveyMonkey, but at the same time can be seen as its main weakness.
Specialized for NPS
AskNicely is probably one of the best survey tools out there for customer support. So, if you're looking to improve your NPS, this is an all-around tool that will help you do so. That being said, it's not really the best of solutions for other kinds of surveys.
And at the same time, both SurveyMonkey and LeadQuizzes, for instance, have a ready-made NPS survey template that you can use at a much lower cost, just without all those fancy dashboards.
Other noteworthy SurveyMonkey competitors: SurveyGizmo, QuestionPro, Qualtrics, GetFeedback
… Qualaroo, Zoho Survey, SurveySparrow, Alchemer, SoGoSurvey – and the list goes on.
The fact is that most of these tools will get the job done for you. Some are very similar to SurveyMonkey while others have unique features that make them worthy competitors.
That's why all of the alternatives we've reviewed in detail here offer at least some advantage compared to SurveyMonkey.
Conclusion
Today, there are literally hundreds of survey builders out there. But the thing is that I didn't want this to turn into a list of "256 survey tools you have to try NOW" as nobody's got that much time. And I'm just talking about merely going through such a huge list, don't even get me started about testing at least a dozen of tools from the list so you can make an informed decision.
Instead, here I presented you with 3 SurveyMonkey alternatives that are completely different from each other. This way, you can decide what type of a SurveyMonkey competitor suits you best and then maybe try it out or do your own additional research tools similar to it.
Whatever your decision, make sure the tool is an adequate fit for your specific business needs. The best way to do so is to test some of the tools we recommended and decide for yourself.
To get a 14-day FREE trial of LeadQuizzes (with UNLIMITED features), click here.